February 23. 2020
QHHPF Executive Director Ashley B. Cloud presentation "Last Stop to Freedom: Wilmington's Pivotal Role in the UGRR" at the Bear Library 2pm-4pm
February 29, 2020
QHHPF & Friends of Dickinson Mansion Annual John Dickinson Memorial at the Wilmington Friends Meeting House 1pm-3pm
March 8, 2020
QHHPF & Pacem In Terris joint presentation "How Harriet Tubman Changed the World and You Can Too" at the Bear Library 2pm-4pm
January 12, 2020
QHHPF Executive Director Ashley B. Cloud presentation "A View From the Hill: Quaker Hill's Impact on Wilmington" at the Bear Library 2pm-4pm
October 19th 2019
Dr. Cheryl  Renee Gooch talk on her new book "Hinsonville Heroes: Black Civil War Soldiers of Chester County, PA" at the Wilmington Friends Meeting House 3pm-5pm
September 28th 2019
Peace Week presentation with Pacem In Terris "How Harriet Tubman Changed the World and You Can Too" at the Wilmington Friends Meeting House 10am-12pm
FEBRUARY 17, 2018 – ANNUAL DICKINSON MEMORIALJoin us for our Annual Dickinson Memorial to celebrate the legacy of local Founding Father John Dickinson and his impact on the formation of our young nation. We will enjoy a performance by Dickinson descendant Evelyn Swensson of his rousing "Liberty Song" with piano accompaniment by Lennea Raffaele. Wilmington Mayor Mike Purzycki will read the original eulogy from Dickinson's funeral. We will also learn more about this passionate patriot from historian Dick Carter and lay a beautiful wreath created by local florist Flowers by Tino at Dickinson's grave. Refreshments to follow at 521 N West nearby. Please join us!
JUNE 4, 2017 – 3RD ANNUAL FRIENDS OF ARTS FESTIVAL SPONSORED BY PNC BANK
Join QHHPF for its 3rd Annual Friends of the Arts Festival alongside the 11th Annual Berry Festival at the Friends Meeting House. St. Peter's and Friends Meeting have been neighbors for over 200 years in the heart of historic Quaker Hill. Join us for family-friendly fun, food, music, games and beautiful art to purchase. We will be celebrating local artists such as Patricia Dawson, Eunice LaFate, Madeline Porter, Kaitlyn Altieri, Tom Tully, Christine Warheit, Augusto Amurao, and others from the Creative Visions Factory. We will also enjoy a Festival Finale concert courtesy of Wilmington Concert Opera. Come learn about our history, support our mission, and have FUN!
APRIL 15, 2017 – UGRR WORKSHOP SPONSORED BY M&T Bank
Join the QHHPF for our last FREE Underground Railroad Workshop on Saturday, April 15 from 12-2 p.m. Educator Harper Gould will lead an interactive lesson on local heroines and Freedom Seekers, such as Rachel Mendenhall Garrett, Emeline Hawkins and Harriet Shephard. Through their inspiring stories, explore the unique hardships faced by women on the quest for freedom and create our own version of the multi-purpose Quaker Friendship Quilt. LUNCH provided. Contact Ashley Cloud for further details and confirmation at ashley@quakerhillhistoric.org.
MARCH 11, 2017 – HARRIET TUBMAN DAY CELEBRATION DOWNTOWN
Come celebrate Harriet Tubman Day with QHHPF and the Delaware Historical Society on Saturday, March 11 from 11 a.m. to 12:30 p.m. The celebration will begin with the State of Delaware Proclamation on the steps of Old Town Hall on Market Street and then hands-on activities that highlight Harriet Tubman's legacy and Wilmington's contribution to the Underground Railroad.
FEBRUARY 25, 2017 – UGRR WORKSHOP SPONSORED BY M&T BANK
Join us for a FREE interactive, family-friendly Underground Railroad workshop in the historic Wilmington Friends Meeting House on Saturday, February 25 from 12:00 – 2:00 p.m. Enjoy PIZZA while educator Darleen Amobi teaches about the struggles and creativity of Freedom Seekers, such as Henry "Box" Brown. Courtesy of the DE Humanities Forum, prepare to be regaled by the first person account of Private James Elbert: African-American Delawarean, solider in the Union Army and hero of Polktown.
FEBRUARY 18, 2017 – ANNUAL JOHN DICKINSON MEMORIAL
Join QHHPF and the Friends of the Dickinson Mansion on Saturday, February 18 from 10:00 a.m. – 12:00 p.m. as we celebrate the enduring legacy of founding father, patriot, author and Delawarean John Dickinson. Learn about Dickinson's contributions to local and national history while enjoying refreshments in the historic Wilmington Friends Meeting House located in the heart of downtown Wilmington and the historic district of Quaker Hill.
JANUARY 28, 2017 – UNDERGROUND RAILROAD WORKSHOP SPONSORED BY M&T BANK
Join us on Saturday, January 28 from 12 p.m.-2 p.m. for our Underground Railroad Workshop Sponsored by M&T Bank at the historic Wilmington Friends Meeting House at 4th and West Streets downtown in the heart of historic Quaker Hill. Lunch will be provided as we learn about Harriet Tubman and Wilmington's vital role in the Underground Railroad from scholar Patricia Lewis with a fun, hands-on activity by artist Mia Muratori. The workshop is FREE to children and their families. To confirm attendance or ask any questions, please contact Ashley Cloud at ashley@quakerhillhistoric.org.
OCTOBER 30, 2016 – SACRED PLACES TOUR
Join the Quaker Hill Historic Preservation Foundation and Preservation 50 for a tour of such historic congregations as Wilmington Friends Meeting (c. 1738), St. Peter's Cathedral (c. 1816), Grace Methodist Church (c. 1868), Adas Kodesch Shel Emeth (c. 1889), Hanover Presbyterian (c.1772), Centre Friends Meeting (c. 1796) and St. Paul's Catholic Church (c. 1869). Doors open for tours on Sunday, October 30th from 1 p.m.-4 p.m. Come and rediscover the rich history of these historic sacred places and their impact on our wonderful city.
Click here for tour locations and times.
OCTOBER 28, 2016 – SACRED PLACES CONFERENCE AT WILMINGTON FRIENDS MEETING HOUSE
Join the Quaker Hill Historic Preservation Foundation for brunch and a speaker on Friday, October 28th from 9 a.m.-12 p.m. at Wilmington Friends Meeting House on 4th and West Streets in downtown Wilmington in the heart of historic Quaker Hill. Our speaker, Josh Costano of Sacred Places Philadelphia, will address the unique challenges of maintaining an historic church, accessing alternative revenue streams for maintenance and upkeep, and engaging the surrounding community in challenging neighborhoods. Our participating friends will also be given a walking tour of historic churches in the Quaker Hill Historic District.
We are honored to have the support and participation of such historic congregations as Wilmington Friends Meeting (c. 1738), St. Peter's Cathedral (c. 1816), Grace Methodist Church (c. 1868), Adas Kodesch Shel Emeth (c. 1889), Hanover Presbyterian (c.1772), Centre Friends Meeting (c. 1796) and St. Paul's Catholic Church (c. 1869). Each has graciously agreed to open their doors for tours on Sunday, October 30th from 1 p.m.-4 p.m. We urge the public to rediscover the beautiful edifices they see in passing every day and learn about their rich history and impact on our wonderful city.
All of these events are part of a larger, national celebration of the 50th Anniversary of the National Historic Preservation Law. The statewide effort in Delaware to celebrate this occasion has been spearheaded by American Revolution scholar and Director of Hale-Byrnes House Kim Burdick. Her efforts, coupled with the passionate cadre of historians, history lovers and historic preservationists we are fortunate to have throughout Delaware, ensure our state and local history will be protected and handed down to future generations.
JUNE 5, 2016 – 2ND ANNUAL FRIENDS OF THE ARTS FESTIVAL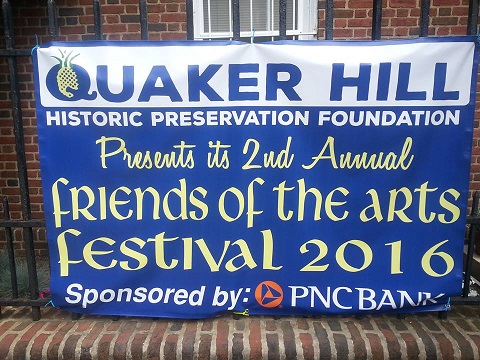 A forecast of potentially stormy weather ended up being a blessing in disguise for our much anticipated 2nd Annual Friends of the Arts Festival sponsored by PNC Bank. The decision was made to utilize the gorgeous interior of St. Peter's Cathedral and the outcome was magical. With the backdrop of a 200 year old work out of art, the Quaker Hill Historic Preservation Foundation was able to promote the beautiful history of Quaker Hill while featuring the works of an amazing group of artists. The wise decision to collaborate with the Harmony on the Hill Committee to hold our Festival alongside the Annual Berry Festival at the historic Wilmington Friends Meeting House created a true community event. These historic neighboring edifices allowed Festival goers to seamlessly enjoy family oriented activities such as delicious barbecue, fresh strawberry desserts, live music, games, face painting and art projects for children. Eunice LaFate was on hand with not only her beautiful art for sale, but also her hands on folk art lesson and collaborative project for children of all ages to contribute. The QHHPF owes a debt of gratitude to not only the artist, but to the Delaware Humanities Forum for sponsoring Ms. LaFate's educational presentation. Many children participated and created thoughtful pieces that reflected their ideals of what makes their neighborhoods special or what they would like to see in their neighborhoods. Images representing inclusivity, safe havens, love and play resonated through all of their drawings, creating a tapestry of what we should strive to mold our city to be for this precious generation.
Thanks to joint promotional efforts on the part of QHHPF, Harmony on the Hill and Downtown Visions, the Festivals drew hundreds to historic Quaker Hill, many of whom were discovering its beauty and history for the first time. In the true spirit of community, St. Peter's own Girl Scout Troop set up a table at the corner of 4th and West between St. Peter's and the Meeting House, tempting Festival goers with their delicious cookies and encouraging them to flow back and forth between the two events. Fellow Quaker Hill historic church, Tabernacle Baptist, donated all of the folding tables used for the Arts Festival while historic Hardcastle Gallery donated display panels for the art to be hung. Father Klein from St. Peter's was seen giving tours to interested groups and those perusing the art were regaled with a harmonious organ performance by St. Peter's Director of Music.
Amidst of these joyful activities, let us not forget the art! QHHPF was so fortunate and endlessly grateful to the gifted artists who participated in the Festival. From the established and renowned to the up and coming and debuting…the Festival featured paintings and photography in different mediums and styles to engage the eyes and feed the soul. There were watercolors and oils from Wynn Breslin, showcasing the breadth of her talent and proving that age (84) cannot contain or dim a youthful and talented spirit. Precise still life watercolors from Riva Brown highlighted the beauty of ordinary objects, reminding us that art and beauty is all around us. Vibrant folk art from Eunice LaFate illustrated how organic artistic talent cannot be denied and how art can bring joy to the soul while also touching on themes of diversity and community. The colorful and eclectic pieces by Madeline Porter reflect her diverse background, interests and growing sense of community activism. Debuting photographer Kaitlyn Altieri captured the beauty and architectural elements of Quaker Hill through her discerning yet romantic lens. By all metrics, the 2nd Annual Friends of the Arts Festival can be considered a success. The talent on display and the surrounding Quaker Hill community allowed art to do what it does best: reveal beauty, engage conversation, build community and uplift everyone it touches.
APRIL 1, 2016 – LANDSDOWNE FRIENDS SCHOOL FIELD TRIP
Quaker Hill echoed with the excited chatter of 20 3rd and 4th graders from Landsdowne Friends School in Upper Darby, PA as they disembarked from their bus on the corner of 4th and West early on Friday morning, April 1. This precocious bunch joined us as part of the Underground Railroad field trip conceived by their ambitious teacher Alison Levie. Ms. Levie sought to give her students a visceral experience outside of their textbooks as they traced Harriet Tubman's story all the way to her birthplace in Bucktown, Maryland. Given the school's Quaker roots and its distinction of being located near Thomas Garret's birthplace, a visit to Quaker Hill was a natural starting point on their educational journey.
The children had wonderful, inquisitive energy as we began our presentation at the corner of 5th and West at the site of the first residence in Quaker Hill built by Thomas West in 1738. The idea of history being a scavenger hunt for clues had them scouring the building and pointing out the carvings and dates they saw. We expanded our search to the Meeting House cemetery, where they were tasked with discovering Thomas Garrett's gravestone. Much energetic running and exclamations as they found dates and names that resonated with them finally led us to finding Mr. Garrett's resting place where they promptly snapped pictures with their smartphones. A true intersection of history and modern times.
Assured they had sufficiently stretched their legs, we made our way into the Meeting House itself to discuss its significance and role in Thomas Garrett's life as the site of his marriage to Rachel Mendenhall and the effect of the Hicksite schism over the Quaker community taking a proactive role in abolitionism. While the children and their chaperones enjoyed snacks and water, we explored the relationship between Thomas Garrett and Harriet Tubman in the context of the times and their remarkable accomplishments in the face of personal peril. Proving they were attentive students, the children had excellent remarks and questions. They especially enjoyed learning of Harriet's eight journeys into Wilmington and the nerve-wracking account of her, two of her brothers and other fugitives hiding in a wagon full of hay as bricklayers (and Underground Railroad operatives) provided distraction to divert potential bounty hunters as they attempted to safely cross the Market Street Bridge on the way to 227 Shipley Road.
The experience was enjoyed by all and we look forward to hosting more Lansdowne students and their families again in the future as we uphold our mission to educate visitors on the rich history of the Quaker Hill Historic District.
FEBRUARY 28, 2016 – QHHPF & DE HISTORICAL SOCIETY FAMILY UGRR PROGRAM
The Quaker Hill Historic Preservation Foundation collaborated with the Delaware Historical Society for a free family event focused on the Underground Railroad in Delaware. The QHHPF was kindly hosted by Grace Methodist Church as participants were taken on a virtual walk in the footsteps of Freedom Seekers who passed through Wilmington on their perilous journey to freedom via historical photos, documented stories of local landmarks, an interactive workbook for children, and the poem "Harriet and the Promised Land" by Jacob Lawrence. The DHS hosted participants in their Old Town Hall for activities that explored the difficult decisions made by Freedom Seekers at that time and read excerpts from the journal of Private Tillman from their archives.
FEBRUARY 20, 2016 – UNDERGROUND RAILROAD WORKSHOP FEATURING RE-ENACTOR WILLIS PHELPS COURTESY OF THE DE HUMANITIES FORUM
QHHPF hosted parents and children at the Wilmington Friends Meeting House as they explored the Underground Railroad with educator Darleen Amobi (member of Hockessin Historical Society and Kennett UGRR Center) via a coloring activity, an excerpt from "Slavery and the Importance of the UGRR", a lively discussion on the day to day life of a Freedom Seeker, and a short video about the UGRR and its heroine Harriet Tubman. Everyone enjoyed pizza from DiMeo's on Market Street and then were thoroughly captivated by historical interpreter Willis Phelps in his persona as Private James H. Elbert "C" Company 8th United States Colored Infantry, an actual Delawarean and one of the "Five Heroes of Polktown" who fought for the Union during the Civil War.
FEBRUARY 16, 2016 – ANNUAL QHHPF AND FRIENDS OF THE DICKINSON MANSION WREATH LAYING MEMORIAL
The Quaker Hill Historic Preservation Foundation and The Friends of the John Dickinson Mansion
held its Annual Dickinson Wreath Laying Memorial commemorating Founding Father and patriot John Dickinson on
February 16, 2015, at The Wilmington Friends Meeting House located on 4th and West in downtown Wilmington. Dickinson's remains are interred in the Friends Cemetery where both organizations and the public joined to hear his eulogy and remember his many accomplishments. Dickinson, a prolific writer, authored the Articles of Conferederation and held offce as Governor of Delaware after the Revolutionary War. The QHHPF keeps Dickinson's memory alive as part of its tours of historic Quaker Hill in conjunction with the Friends of the Dickinson Mansion's efforts to maintain his Dover home as a historic museum and respository for his personal effects. We look forward to coming together each year in his honor and continuing to preserve this vital piece of Delaware's history.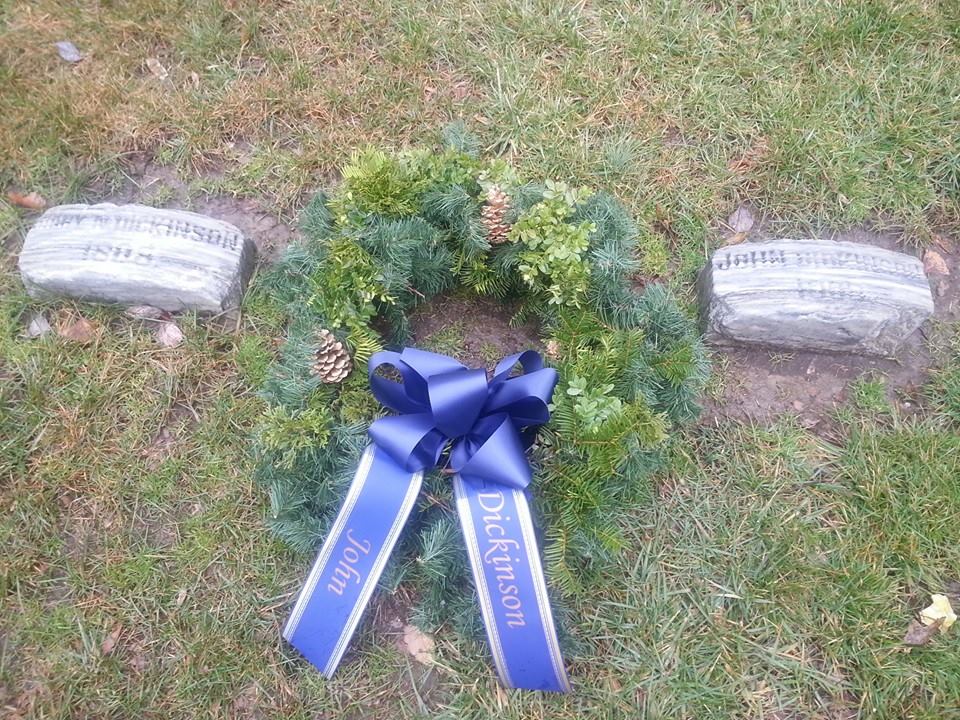 JANUARY 30, 2016 – QHHPF UNDERGROUND RAILROAD WORKSHOP FOR KIDS
QHHPF held an innovative and interactive workshop for tweens/teens which included stories about Harriet Tubman's experience, details about what fugitives would have carried with them on the Road to Freedom, local hero Thomas Garrett's pivotal role and doughnut making activity circa 1800's.
NOVEMBER 14, 2015 – TUBMAN-GARRETT UGRR LECTURE: DR. JAMES NEWTON
The Quaker Hill Historic Preservation Foundation had the privilege and the pleasure of hosting dynamic speaker Dr. James E. Newton on Saturday, November 14, 2015, at the Wilmington Friends Meeting House. Dr. Newton came to us from our friends at the Delaware Humanities Forum with an illustrious background as Professor Emeritus of the University of Delaware Black American Studies department. Dr. Newton is a respected authority on Delaware's and Thomas Garret's crucial role in the Underground Railroad and a passionate advocate for shining a light on this history.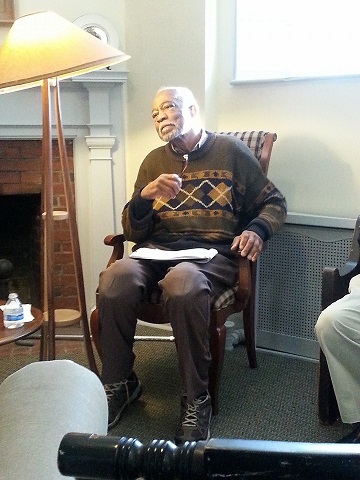 Dr. Newton is a New Jersey native with deep roots in Delaware. His mother is a native of Smyrna, DE, and his wife brought him back to Wilmington in her career as an elementary school teacher. Upon their settlement here, Dr. Newton began teaching at the University of Delaware and remained for 33 active years. During his tenure, he advocated the creation of the Underground Railroad Freedom Network Act and testified before Congress on its behalf. His other affiliations included Chair for the Commission to Promote Racial and Cultural Diversity, member of the U.S. Commission on Civil Rights Delaware State Advisory Committee, and the boards of such local community organizations as the Walnut Street YMCA, Delaware State Arts Council, Delaware Art Museum, Tatnall School, YMCA of Delaware, and Public Allies.
In 2012, Dr. Newton was named winner of the James H. Gilliam Sr. Chairman's Award by the Metropolitan Wilmington Urban League. The award recognizes pioneers for outstanding contributions and leadership in the fight for civil rights and a more equal and inclusive America. Newton was the first African-American to earn a Master's degree in Fine Arts from the University of North Carolina and received his doctorate from Illinois State University. He is the author of The Principles of Diversity: Handbook for a Diversity-Friendly America and of A Curriculum Evaluation on Student Knowledge of Afro-American Life and History. He also co-edited The Other Slaves: Mechanics, Artisans and Craftsmen and has won first-prize awards in sculpture and graphics in the National African American Art Exhibition in Atlanta.
Those in attendance were regaled by Dr. Newton's fiery oratory style, which truly brought history to life with depth, passion, and humor. We were reminded of Delaware's nickname as the "Last Stop to Freedom" as Harriet Tubman smuggled fugitive slaves to Thomas Garrett's home at 227 Shipley, knocking at all hours of the night, knowing and trusting Garrett would provide whatever was needed to shepherd these fugitives to freedom via William Still in Philadelphia. The utter trust maintained between the "first diversity team in U.S. history" of Tubman and Garrett is a fact that in Dr. Newton strongly underscored. Their partnership allowed Garrett to defy the laws of man at the time to uphold the greater law of helping ones' fellow man and assist Tubman as the "Moses of her people" with guiding some 2,700 fugitives through his own home in the heart of Wilmington, Delaware.
Dr. Newton reminded us it is our duty to maintain the legacy of historic luminaries such as Harriet Tubman, Thomas Garrett, Samuel Burris, Isaac Flynt, Ezekiel Jenkins, William Still, and John Hunn. All figures with strong ties to Delaware whose beacon as upholders of freedom we must vigilantly maintain through education, preservation, and restoration. The Foundation is deeply and humbly appreciative to Dr. Newton for sharing his time and knowledge with us and moves forward greatly invigorated and inspired by his words.