John Dickinson
"Penman of the Revolution"
Born on November 2, 1732, in Talbot County, Maryland, John Dickinson would become one of our nation's greatest political, legal and social leaders. Throughout career fraught with controversy because of his refusal to change his stance based on popular political climate, Dickinson strove to help a nation uphold the ideals of freedom, liberty and law. Though his political rivals portrayed him as a conservative British loyalist because of his long-lived attempts to reach an agreement that would avoid a war over the colonies, Dickinson believed in defense of land and liberty against a hostile enemy, and acted as such when hope for an agreement had failed. Overall, he was overwhelmingly trusted and often revered by the people he represented over the course of his life.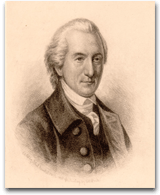 John represented the fourth generation of his family to have lived in the colonies, and spent his childhood on the family plantation near Dover, Delaware. The Dickinsons prospered, acquiring thousands of acres of land in Maryland and Delaware, and John studied law in England and in Philadelphia as a young man.
His political career was extensive. He was elected to the Assembly in the lower counties of Delaware in 1759, and as a legislator, represented Pennsylvania at the Stamp Act Congress and the Continental Congress until leaving in 1776 for military service.
Perhaps the most prominent writer and politician in the years leading up to the Revolutionary War, Dickinson preferred a non-violent unity with England rather than a hasty revolution. He believed the colonies were illprepared to hold their own if and when British rule had been thrown off. But when the majority of colonies had voted in favor of the Declaration of Independence in July of 1776, and news came of British troops arriving in New York, Dickinson (a colonel of the First Philadelphia Battalion of Associators) and his men were the first to leave for New Jersey in defense of the newborn nation.
He also served as a Delaware Congressional Delegate in 1779, was elected President (equivalent to Governor at that time) of Delaware in 1781, and was the President of the Supreme Executive Council of Pennsylvania from 1782-1785. He had the honor of writing the first draft of the Articles of Confederation, and was a Delaware Delegate to the Constitutional Convention in 1787.
Later in life, Dickinson became a staunch advocate for the manumission of slaves and the free education of those without means to afford any. He donated land for the establishment of the Brandywine Academy, and funded the Wilmington Academy, to which he served as a trustee. Though not a member of the religious Society of Friends, or Quakers, Dickinson was involved with the Wilmington and Kent County Friends, and their humane ideals contributed strongly to his moral philosophy. Religious, but not affiliated with any particular sect, Dickinson believed that the differences that divided religions would one day be dispersed, and the people would unite under "one head".
After retiring from the Supreme Executive Council of Pennsylvania in 1875, John moved to Wilmington with his wife, Mary, and two daughters. They rented a house on Market and 9th streets, and later purchased a plot on Market and Kent (now 8th street). Dickinson continued to be politically active, though in his later decades of life he was forced, out of ill health and a desire to escape the political turmoil that had abounded during his years, to refuse numerous appointments to high ranking political positions.
Upon his death in 1808 at the age of 75, Dickinson was buried at the Wilmington Friends Meeting House. The act symbolized his beliefs in the moral foundation of the Society of Friends, and contended during his life that the only discrepancy that kept him from officially joining that religion was their opposition to violence even in an act of defense against a hostile enemy. His grave, and a plaque in his honor, are housed on the grounds of the Wilmington Friends Meeting House at the corner of 4th and West streets in the Quaker Hill Historic District.

For more information on John Dickinson, read Milton Flower's biography, on which this text was informed.
Flower, Milton Embick. John Dickinson, conservative revolutionary. The University Press of Virginia. 1983